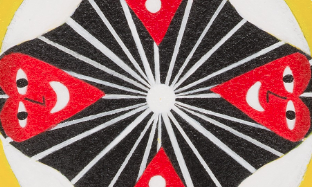 Archive Project: Supernormal Times by Rabiya Choudhry
It is with great delight that we present Supernormal Times (2021) by Rabiya Choudhry.
Supernormal Times combines visual and audio elements and is Rabiya's response to the Supernormal Archive. The audio also exists as a written piece. A print and patch are available to buy, designed by the artist.
///
Conversations about a commission with Rabiya began back in the early days of 2021, alongside establishing an archive for Supernormal.
We find Rabiya's artwork captivating and moving, and because of her striking, narrative-led paintings we were keen to see what she might create from what the archival material gathered thus far. It's worth noting that Rabiya had not visited Braziers Park or attended a Supernormal before, so it was all completely new for her. We are blown away with the outcome and how much of the Supernormal and Braziers spirit is present in the work, particularly in the written text and audio element. The painting is bold and beautiful, with intricate detail. Be sure to zoom in and marvel!
The audio element is Rabiya's voice, mixed with sounds from the Supernormal artist residency held at Braziers Park in 2016. Sound mixing is by Sam Francis.
You will be able to see the painting in the flesh at Supernormal 2022, but in the meantime, you can view the work online:

To coincide with the commission, we have produced a limited edition print and patch which are available to buy on our freshly minted Bandcamp page. Sales of both will directly support the makings of the festival next year.
We want to express huge amounts of gratitude to Rabiya for accepting the challenge of navigating the archive in its early stages and creating something so incredible.

This is just the start of the archive project! In the coming weeks we'll be presenting Greater Things, a new work from Abigail Reynolds. Watch this space!