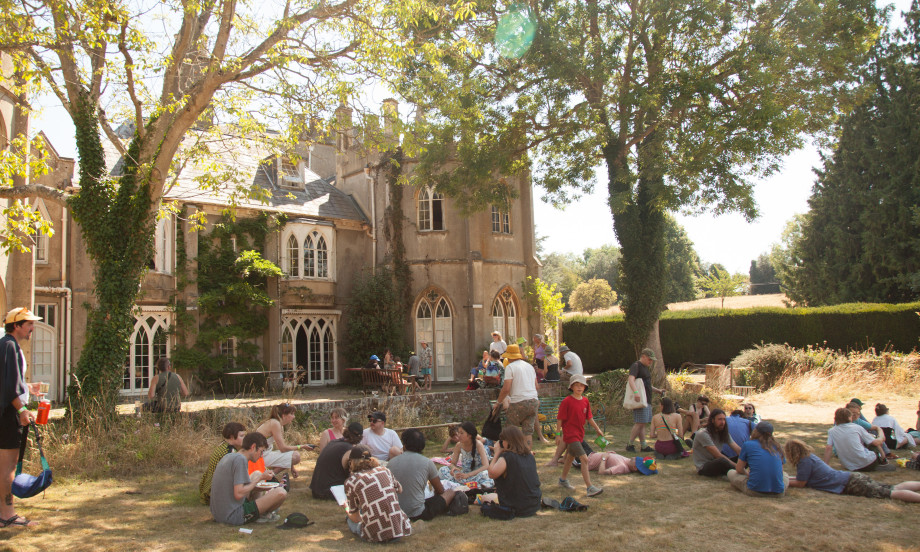 Practical Info
Supernormal takes place on the grounds of Braziers Park which is a residential community. Please respect the people living here and do not enter any areas other than noted for Supernormal. Braziers house will be open to the public during certain hours only which will be listed in the programme.


PARKING
Car parking charge of £tbc for vehicles with multiple passengers, or £tbc for vehicles with a single passenger. Bands may bring their vehicles onsite to unload equipment during their performance. Live in vehicles are only allowed on site with a valid ticket. Space is at a premium so when these are gone, they're gone – they will not be available at the gate. No other cars are allowed in main field during the festival.


WRISTBAND EXCHANGE
When you arrive, head to the box office tent at the entrance to the festival where you will get your wristbands. Please bring a copy of the email you received when you purchased your ticket. It has a barcode that the box office will scan to find your order. If you can't find the email, go to the "My Account" section of the website where you will be able to download a copy.


SITE INFORMATION
Braziers Park is an eco-site and an Area of Outstanding Natural Beauty so please do not bring any glass bottles into the site and tidy up after yourselves, disposing of all litter in the appropriate bins and recycling areas throughout the site. Smokers will be issued a small lidded pot to store used filters. Please endeavour to leave Braziers Park in the state you find it in.


FOOD & DRINK
There is a range of delicious food stalls on site. There are also 4 bars onsite selling the usual alcoholic and soft drinks. Please support Supernormal by purchasing drinks and food from the bars and traders on-site. We have intentionally kept these prices down; drinks are priced in line with what you'd pay in a pub (in the South) and all food traders are asked to provide a basic meal priced at £7 or less. There will be 4 bars across the site serving craft beer, traditional ales, cider, cocktails and more.


CHILDREN
Supernormal is very child friendly. Kids aged 12 and under can attend for free with a paying adult and there will be lots for them to see and do.


FIRES
There will be two large campfires on site, no other fires are allowed apart from camping stoves which are safely raised above the ground.


TOILETS
The site uses composting toilets. Please put a handful of sawdust after you tinkle and keep toilets tidy. There are composting urinals onsite.


SHOWERS
There is a wood burning outdoor hot shower on site. Please only use the ecologically sound cleaning products provided as they drain directly back into the land.


DOGS
Only assistance dogs are allowed on site.


WATER
Fresh drinking water is available on tap all over the site; It tastes great. In an effort to reduce waste we do not sell bottled water in any of the bars on site.


SECURITY
There will be security and stewards on-site at all times.


INFORMATION
For any information, reporting of any issues, first aid, lost property, production etc., please go to the production office. There will be a festival coordinator available at all times.


CASH
There is no cash machine on site but cashback is available at the bar and cards are accepted around the site.


PERFORMING OR EXHIBITING AT SUPERNORMAL
DISABLED ACCESS
The main field has a designated an area for disabled camping nearby the main activities and next to a disabled access toilet. These spaces are limited so please inform us in advance by e-mail to secure a place and note any specific needs when booking. We can offer a free ticket for support/carer and also provide support to set up camp if required.


Although most areas are accessible, wheelchairs may need to be able to cope with grassy gentle slope as there are no paths as such, and some areas may be more difficult to access. The production tent can be used for a power point.


You can find more information in our access guide
here
.
TICKET RETURNS / TRANSFERS
Unfortunately we are generally unable to offer refunds for tickets. The exception to this rule would be if you have purchased a ticket and are subsequently offered a slot on the programme or a volunteer role.


If you bought a ticket but are unable to attend, you may transfer your ticket to another party. Please use the Ticket Transfer system available by going to the "your account" section of the site.
If you are buying a ticket from someone, that you do not know personally, please insist that they use our ticket transfer system. If they follow this procedure then you will receive an email from our system confirming that they have begun a transfer to you, and detailing the tickets that they hold. At that point you may pay them (through paypal, bacs, etc), afterwhich they can release the tickets to you. If they begin a transfer and then cancel it you will be notified automatically. If someone cancels a transfer to you after you have paid them please contact
[email protected]
for help.
ECO POLICY
We do what we can to reduce the environmental impact of Supernormal. To that end:


We ask that traders do not use any disposable plastics.
Visitors use public transport, or lift share if possible.
The main bar will not use disposable cups, and will instead provide reusable, quality plastic cups for a small fee.
Consider bringing a plate and cutlery from home to reduce the need for disposable utensils from food vendors.
CONTACT
If you need to get in touch with the supernormal team, email info (at) supernormalfestival.co.uk


Thanks for being SUPERNORMAL!

Photo: Richard or Karen Edkins