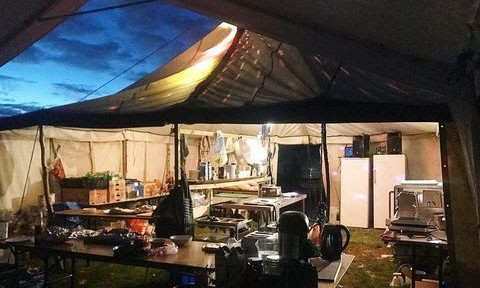 CALLING ALL FOODIES - Chefs and Sous-Chefs Wanted
Chef and Sous-Chef Role Profile

Supernormal is an independent alternative festival organised by a small, friendly team of enthusiastic individuals who help bring it all together. Everyone involved in the festival, from the management to the stewards, is a volunteer and we see it that everyone is as important as each other.
Volunteer roles at Supernormal are hands-on, quite demanding and a lot of fun! As an alternative festival it attracts an eccentric clientele, both in performances and the audience and as such, we are always on the lookout for dynamic volunteers that reflect the innovative and progressive perspective of the festival.
Supernormal is run by what we see as an extended team which includes the core crew and all volunteers. Volunteers are the interface of the event and its direct representative to the public and artists. Team spirit and a can-do attitude are the ethos of the festival and it's essential that volunteers have and are able to demonstrate these attributes.

Supernormal Volunteers are expected to embody the Supernormal principles and values of Equality, Diversity, and Inclusion in all activities, and to actively promote equality of opportunity wherever possible and be responsible for your own health and safety and that of your colleagues.
About the Chef roles
We're on the lookout for eager, experienced chefs to volunteer and help cater in our busy site vegetarian kitchen over the festival weekend.
Volunteering as a chef at Supernormal is a great opportunity to gain experience of event catering at an outdoor festival, with a wide range of people and challenging yourself in a fast-paced, warm environment. Being part of the friendly Supernormal team gives a unique chance to get a closer look behind the scenes of our cutting edge, experimental, one of a kind festival.
The roles we are recruiting for are Head-Chefs and Sous-Chefs. These roles are responsible for the preparation, presentation and service of food.
The Head Chefs and Sous Chefs will be managed by our fantastic Catering Manager Sophie and her crew. She will give you a full induction and provide training on site, and all required information to complete your role with confidence.
We are particularly interested in hearing from professional chefs but keen home cooks are also encouraged to apply. You should be confident in the kitchen, cool under pressure and have excellent organisational skills. Experience of working in an outdoor kitchen and/or mass catering is a plus.
You will be catering for a wide range of people including volunteers, artists and crew.
You will be responsible for:
managing the stock of food over the weekend.
managing the catering assistants and directing their tasks.
ensuring health and safety standards in the kitchen.
ensuring food is served at agreed mealtimes for up to 200 meals at a time.
The Sous-Chef supports the Head-Chef to meet these targets.
These roles require around 15hrs over the weekend, split into three shifts spread across the three days of the festival.
Supernormal encourages equality, diversity and inclusivity in our festival and encourages everyone interested to apply.
Please get in touch with a CV or paragraph outlining your experience if you are interested in applying for this role.
Looking forward to hearing from you!
Volunteer Manager